HOW ONE MAN IS CHAMPIONING CREATIVITY IN RURAL CAMBODIA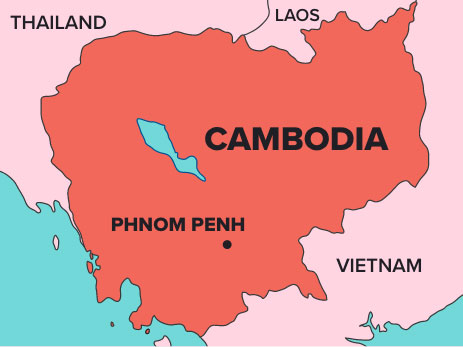 Art is an invaluable tool to help children learn, play and express themselves. Nobody knows this more than Mr Hout Veasna; a UWS Education Officer based in the Siem Pang District of Cambodia.
Mr Hout Veasna champions creativity across the six UWS schools which he oversees, encouraging children to paint, draw and learn through play. We spoke to him about why he thinks creativity is so important, and why he loves what he does.
"The students were introduced to drawing and painting after UWS Schools were built in their communities. There is a good amount of art supplies provided in each school, and that attracts students to come to school and enjoy the art activities. In addition, our students did some art projects with school partners' students who came to visit them almost every year, which made them even more excited to do art."
Mr Hout Veasna
I noticed how much the students enjoyed making art, and I didn't want it to stop. Thus, I continue to encourage them by bringing along dotted black-white drawings for them to colour whenever I visit the schools. Sometimes, the students use their imaginations to draw anything they want to. Other times, I teach them some techniques they have never seen before. I use some alphabet characters and develop them into animals. For example, you can turn a letter "O" into an elephant by adding smaller "O" to become head, adding curves to become trunks and tails, and so on. Students are amazed by these techniques and find it really interesting.
Drawing and colouring are fun activities for the students to do and to enjoy outside their academic curriculums. In most schools, the teachers may either not have time to come to the city to print out colouring paper or they can't afford it. So, I am happy to bring what I can for the students.
Drawing and colouring have really positive effects on children's development. I see that these students learn so much from this. For example, they know exactly what they need during art sessions with me. They start pulling out colours, crayons and a piece of paper and wait for me or their teacher to give them instructions. Moreover, they also know the different types of colours (crayon or marker colours) and when to use them. In addition, through drawing and colouring, these students' hands become more flexible and prepared to learn how to write alphabets. So, they can learn how to write quickly.
After practising their drawing many times, the students are getting more creative. Sometimes, they just let their imaginations go and draw whatever they want. For example, I once told a class to draw fish and they replied that fish are too easy! I am happy that these students are getting more creative. As long as I continue to work for United World Schools, I will keep focusing on art for the students to have fun and learn."