EARTH DAY 2021: SUSTAINABILITY AND EMPOWERMENT
The communities we work with are some of the most at risk of the impacts of climate change. Across Cambodia, Myanmar and Nepal, rural communities rely on the land, and are already seeing the devastating impacts of environmental degradation and climate change.
This Earth Day, we highlight the urgency of empowering local communities to protect the environment, and what we are doing to ensure that we work in harmony with the natural environment.
We know that the countries which are suffering most from the impacts of climate change are those with the weakest economies and least resilience. We work with communities in Cambodia, Myanmar and Nepal. Within these countries, remote and marginalised communities are at most risk of the potentially devastating effects of climate change, affecting their livelihoods and the education of young people. For the period 2000 – 2019, Myanmar was the second-most affected country in the world by extreme weather events, causing loss of life and livelihoods to many thousands of people (Germanwatch, 2020). Cambodia is consistently ranked as one of the most at-risk countries in the world with regards to climate change, as the country does not have the economic or physical infrastructure to easily protect against or recover from climate-related disaster (UNDP, 2021). Nepal is also considered one of the most at-risk countries, susceptible to severe flooding, the risk of which is being increased by deforestation (World Bank, 2021).
In the communities in which we work, people rely on the environment every day to sustain their way of life; to farm, to eat, and to build their homes. As a result, it is vital that we care for the environment in every community we work in, as well as empowering young people to find new opportunities for income, beyond subsistence farming.
The majority of communities we work with rely on subsistence farming, making them particularly vulnerable to climate change and environmental degradation. Education gives young people in these communities the chance for more employment opportunities, and better resilience to climate change.
At UWS we understand that there are three spheres of sustainability; social, economic, and environmental. Our work is upheld by each of these pillars, and to mark Earth Day we are celebrating how our projects are climate smart, responsive and adaptive to each different community we work in. There is no one size fits all approach to environmental sustainability.
Our Global Buildings Adviser Manjeet Raj Pandey oversees the design and construction of all of our schools and learning sites, to ensure that each one suits the community and cares for the environment. The UWS Environment Working Group ensures that our projects are in accordance with national and international environmental protection policies in each country and region we work in. Beyond this, we also conduct training with staff at each school, and encourage sustainable and environmentally friendly practices amongst the students, like reducing plastic usage.
As each country we work in has different environmental needs, we take a tailored approach to each community. In Myanmar, our team prefers to use pre-existing community buildings rather than building new sites to reduce the use of new building materials. High importance is also given to local resources and insights of community members before, during and after any construction processes. Using natural light and collecting rainwater is prioritised to make the most of natural energy and resources.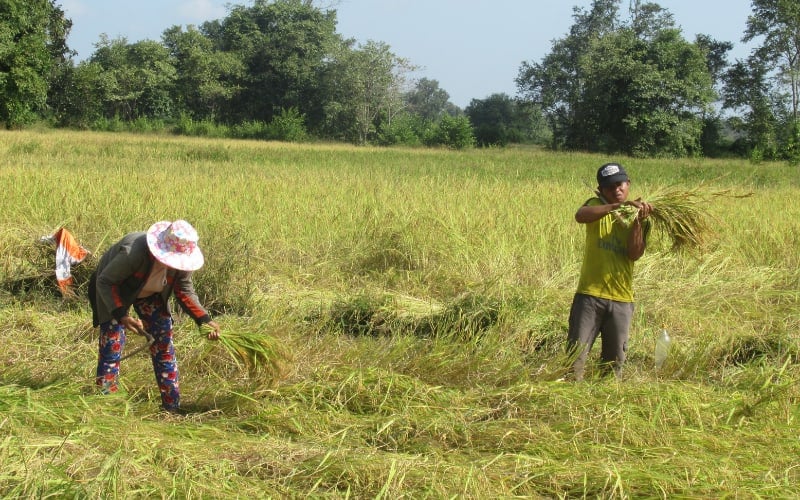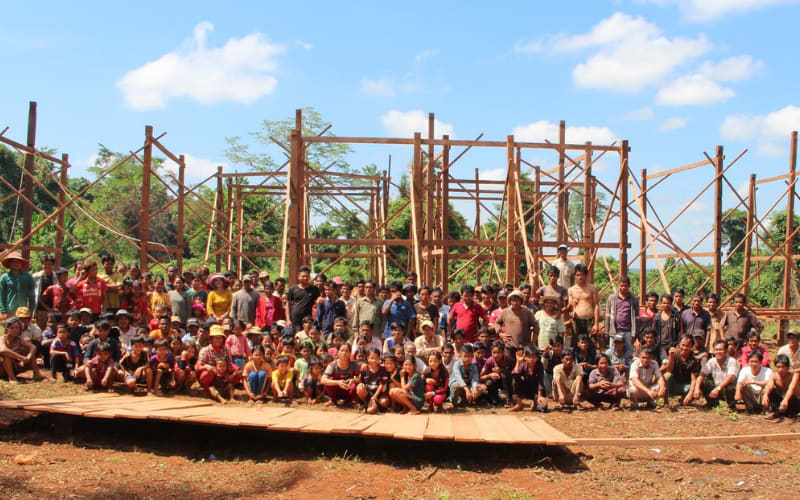 Every UWS school is built by the community, for the community, using materials and methods to suit the local weather and environment.
In Cambodia, our schools are built on elevated platforms to make them resilient to flooding and water pooling during monsoon season. We also consider the effect of wind in the design and construction of our schools. Our schools have a sustainable water supply through tube wells on the school grounds, and recycled tyres are used for play equipment.
In Nepal, our schools are built of brick to minimise deforestation, which is one of the main causes of flooding and landslides in Nepal. We are also looking into how we can maximise the use of solar power at our Nepal schools, to make them more sustainable.
The empowerment of our school communities is clear in the actions they take to protect their environment. The local teachers and School Support Groups at our schools often launch their own grassroots environmental initiatives. Juna, a Community Teacher in Kalleri, Nepal, is working to create a plastic-free school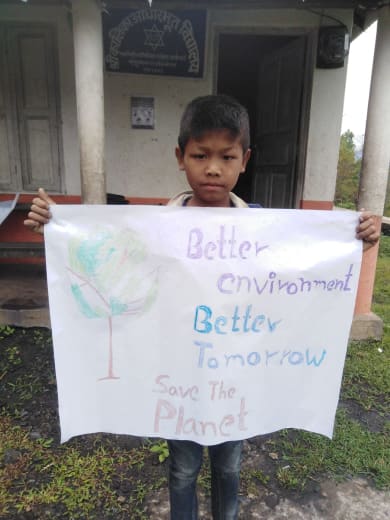 UWS Lebrang students, on the occasion of World Environment Day carried out planting in the school premises. They also put up hand made slogan posters in the school.
Perhaps most importantly, each UWS student has the chance to better understand the threats that their natural environment faces as a result of climate change. Having access to an education can help communities to become more resilient, and to have their voices heard on pressing environmental issues. It's vital that remote and marginalised communities are part of every conversation about climate change, and especially young people in these communities.