TACKLING PERIOD POVERTY

January 4, 2023
United World Schools
6 mins
Menstruation is a regular part of life for more than a quarter of the global population. But what happens if you have to manage a period without any of the resources that make it manageable, like adequate menstrual products or a private space?
This is the reality faced by at least 500 million people every single month. In this blog post, learn how, through our Dropout Prevention Programme, Girls and Mothers' Group members are receiving menstrual health and hygiene education, along with the materials and training to make their own reusable pads.
At least 500 million people globally lack access to the facilities they need to manage their periods. Where menstrual products aren't readily available, many resort to using makeshift items, such as old cloth material, instead of sanitary products, which in turn, risks infections and other health problems.
"When girls and women do not have access to sanitary pads, this makes them uncomfortable in working, studying and everywhere they go. They feel worried, fearful, ashamed and not brave. These problems affect their school enrolment and dropout" shares Ol Senghun, UWS' Adolescent Girls' Lead in Cambodia.
Many girls are forced to miss days of school when they have their period or even drop out of school altogether – losing out on their right to an education. Myths, stigma and harmful cultural or social norms around menstruation exacerbate the difficulties for young people. Menstruation is a stigmatised and taboo topic, girls may also face discriminatory practices whilst on their periods, such as not being allowed to participate in religious practices.
UWS ensures all children are safe, included and learning. Through our WASH (water, sanitation and hygiene) facilities and safeguarding measures (for which we have been accredited by Keeping Children Safe), we ensure the school environment is safe for girls and considers their needs. But this isn't enough. We've found that girls are often unprepared when they start their period, having received little or no education about menstruation before reaching puberty.
Therefore, our Girls' Clubs and Mothers' Groups across Cambodia and Nepal recently held pad-making training sessions, teaching girls and their mothers how to make reusable sanitary pads. The girls and mothers learnt about the reproductive system, puberty, menstruation and how to manage periods safely. Sanitary kits were provided to each attendee, containing reusable pad-making materials, a menstrual hygiene management booklet, and a bag to store their pads throughout the day.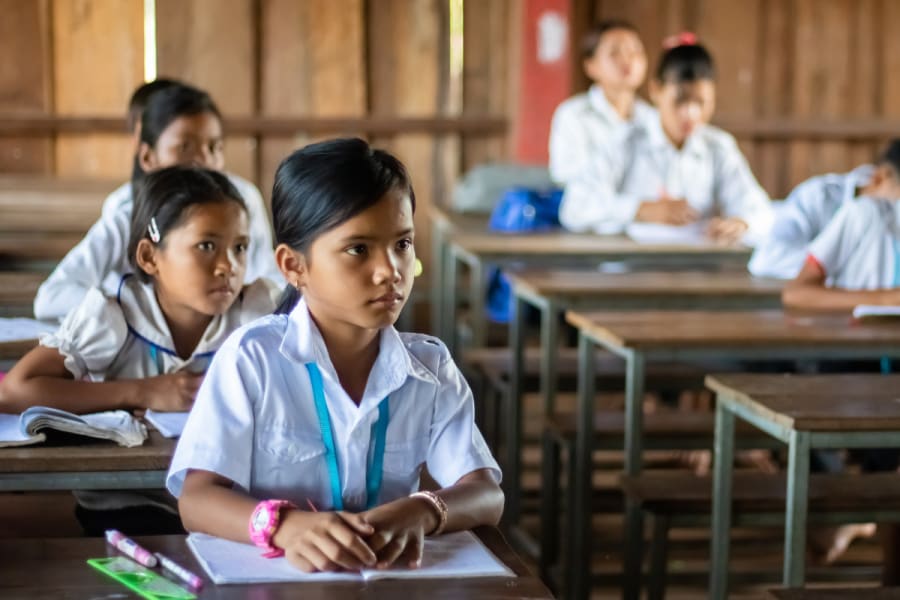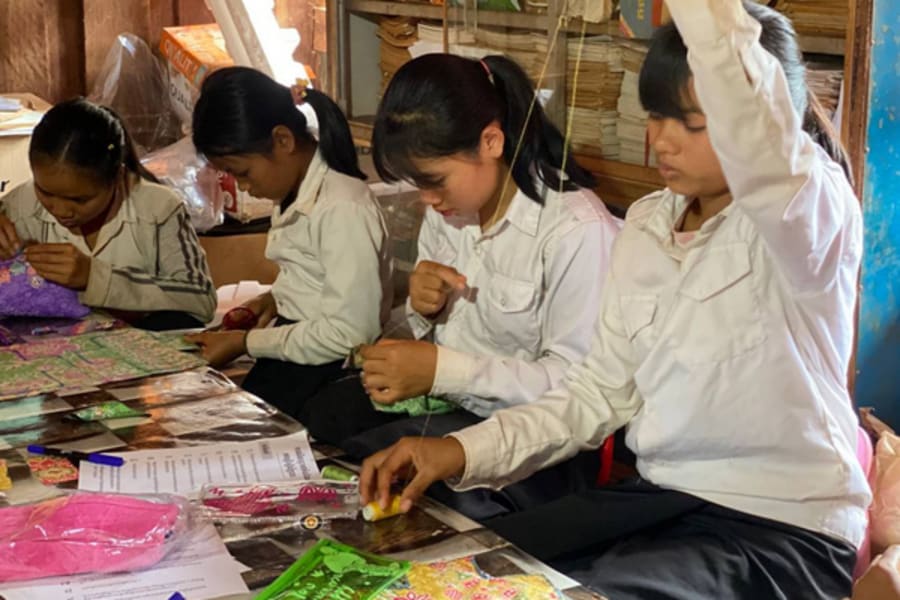 The sessions also provide a safe space for women and girls to learn about their rights, voice concerns and build confidence and knowledge on their bodies and rights. Hourt Veasna, a UWS Education Officer in Cambodia, delivered the training to over 200 women and girls across 10 UWS schools in Siem Pang District.
"The training on menstrual education and puberty helped mothers and girls understand more about the menstrual cycle, their health, the age of menstruation and menopause," explains Veasna. "The sessions prepared them for how they may feel during their cycle, and to help reduce their fear and shame to talk about menstruation".
"We have received very good feedback from the mothers and girls," Senghun adds. "Girls now understand about puberty​​ and are ready for the body changes they will experience. We have seen that students are now attending school regularly because they have enough products and spend less money on buying sanitary pads".
"I was able to understand the negative perception regarding menstrual hygiene after becoming a member of the Girls' Club. I also learned to make reusable sanitary pads through this club," says Seema (name changed), a Girls' Club member from UWS Changlewa in Nepal.
The sessions, which have taken place across more than 120 UWS schools in Cambodia and Nepal, also aimed to empower girls and mothers to challenge the social norms and stigma associated with menstruation and to talk about periods in a shame-free way.
"After being involved in Girls' Club, I have been able to be fearless and put my opinion among others. I have also been able to talk about my issues related to menstrual hygiene and help others share their problems as well." shares Reena (name changed), a student of UWS Sathtare School in Nepal. The pad-making training sessions have received recognition from the members of mothers' groups and local communities.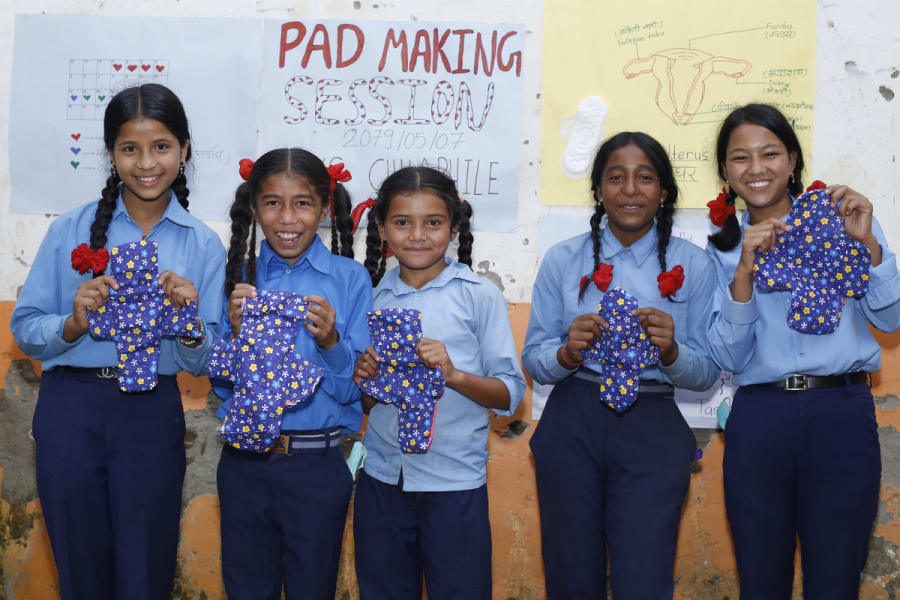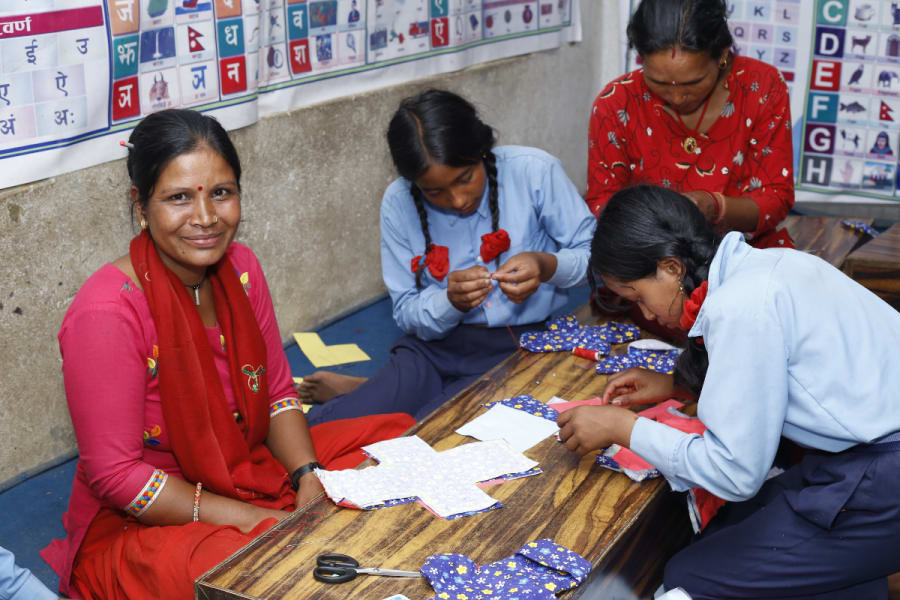 "The pad-making training was very effective. I have been using the pad myself, which is better than the household pad I used to use. I learned more about menstrual hygiene and the importance of a balanced diet during menstruation," says Mala (name changed), a mothers' group member at UWS Jaisithok.
Empowering people to feel confident throughout their period by providing safe products and effective menstrual hygiene education, as well as educating communities, is critical to ensuring that all students have equal access to education and opportunities.
---
The above initiatives are part of our Dropout Prevention Programme, in partnership with Education Above All Foundation's Educate A Child (EAC) programme. The Dropout Prevention Programme aims to support the children most at-risk of education marginalisation and early dropout, to stay in school. Read more here.