UNITED FOR EDUCATION: 2020 IN REVIEW

December 22, 2020
United World Schools
5 mins
The end of the year is always a time for reflection, and we're looking back on a year filled with both immense challenges and huge accomplishments.
2020 has certainly been a rollercoaster, but at UWS we are so proud of all of our teams, the communities we work with, and the people we support. Together, we have shown resilience, taken opportunities to innovate, and collaborated successfully to keep children safe and learning. 
Along the way we won awards, our supporters fundraised and donated, and with support and determination we reached 36,500 children with a life-changing education. Here, we look back on the highs and lows of the year unlike any other…
We started the year with over 200 schools open across Myanmar, Nepal and Cambodia, serving remote and marginalised communities – and by the end of 2020, we've built a total of 226 schools. This was after an award-winning year in 2019, seeing us win a World Innovation Summit for Education (WISE) award. UWS started 2020 with energy and optimism.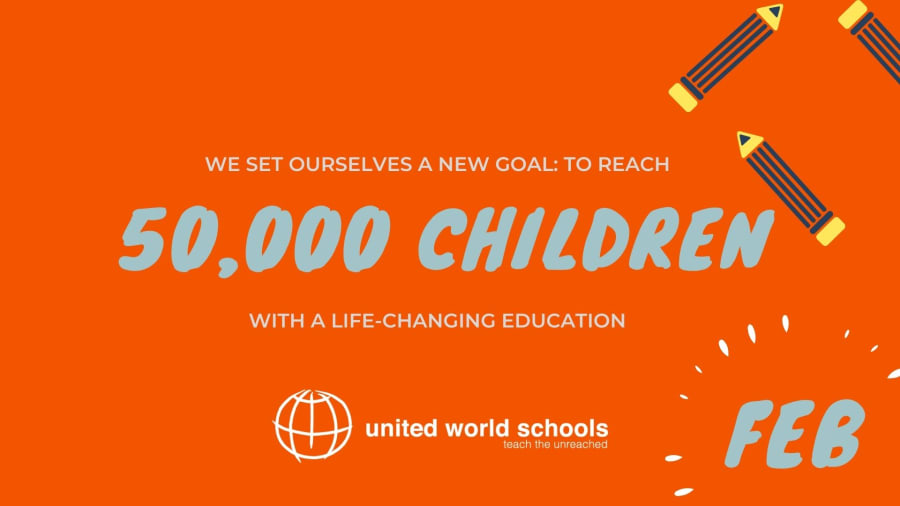 In February, our Global Programmes director Peter Campling visited our schools across Myanmar, Cambodia and Nepal, celebrating the progress of our in-country teams in working towards an important milestone – enrolling 50,000 previously out-of-school children into education.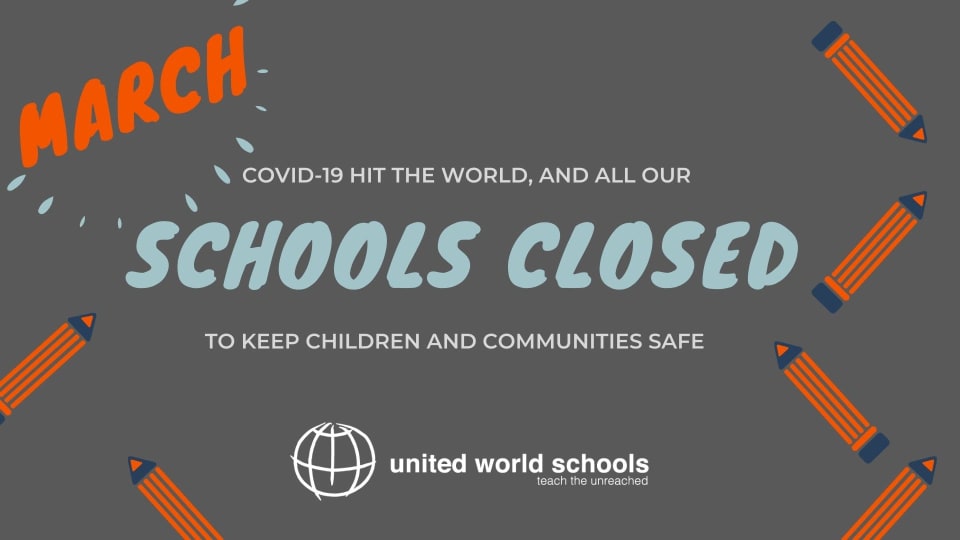 Covid-19 hit the world, and we were all faced with unprecedented challenges. All our schools were closed, and our central staff in Myanmar, Cambodia, and Nepal were in varying states of lockdown. But we were determined to use all our resources and knowledge, and those of our in-country teams, to support our communities and schools to stay safe and get through this difficult time.
We began refocusing our operations to make sure that the communities we support could be as safe and healthy as possible. We had to make sure that anything we did wouldn't cause any unintended harm, which can sometimes happen during times of emergency. We launched our Covid-19 Emergency Appeal, which so many of you supported.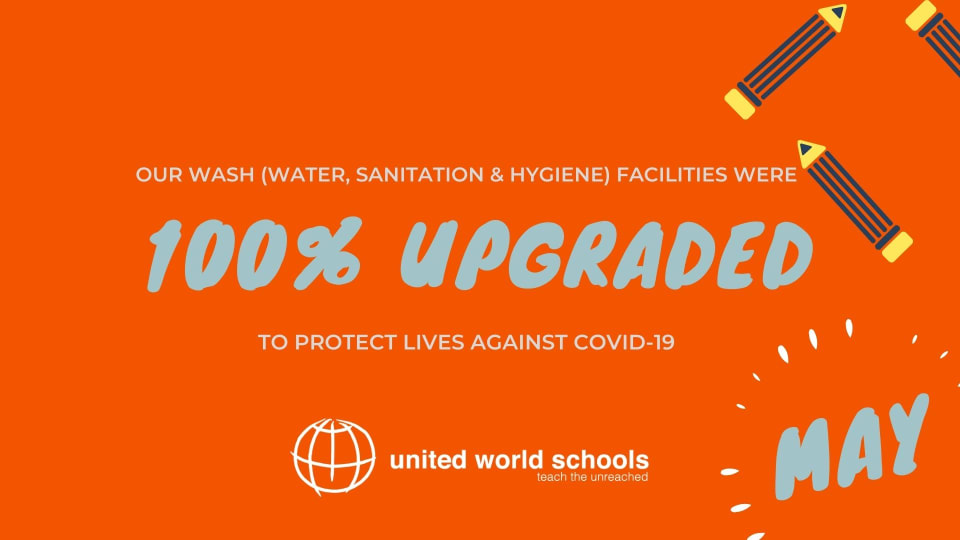 Close partnerships with all the communities we work in enabled us to implement fast and effective change to protect communities.  We worked with our community teachers, our School Support Committees, and other local people with a fantastic understanding of local languages and cultures. We were able to upgrade handwashing facilities in schools in line with WHO guidelines, which could be used by the whole community even if the school was closed. We also launched an awareness campaign in all the communities we work in to provide life-saving information about how to protect against the virus.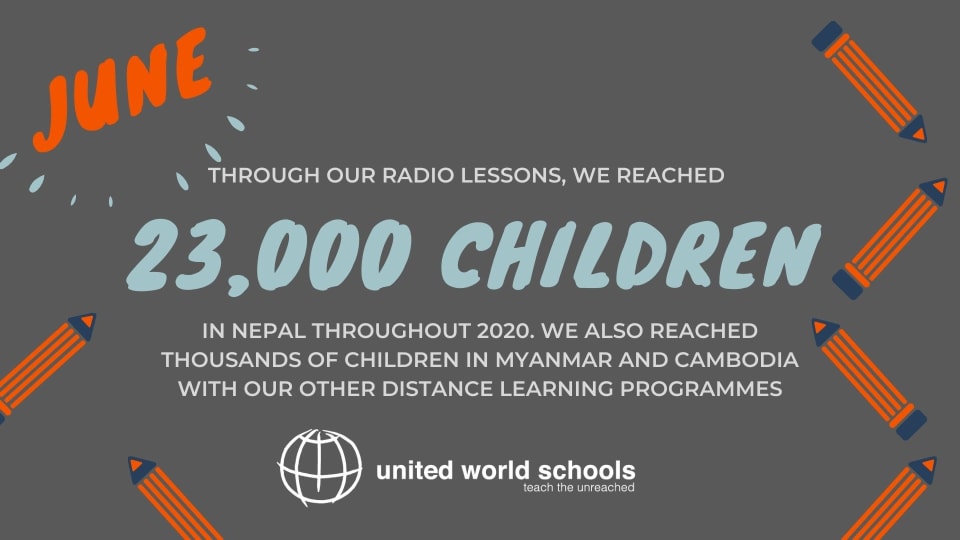 By June, we were running distance learning programmes across Myanmar, Cambodia and Nepal.  Throughout 2020, we broadcasted lessons to 23,000 students in Nepal via radio, provided project-based learning to thousands of children in Myanmar and Cambodia, and made sure that as many children as possible could keep learning while their schools were closed. Our summer auction raised over £23,000 to support our Covid-19 response.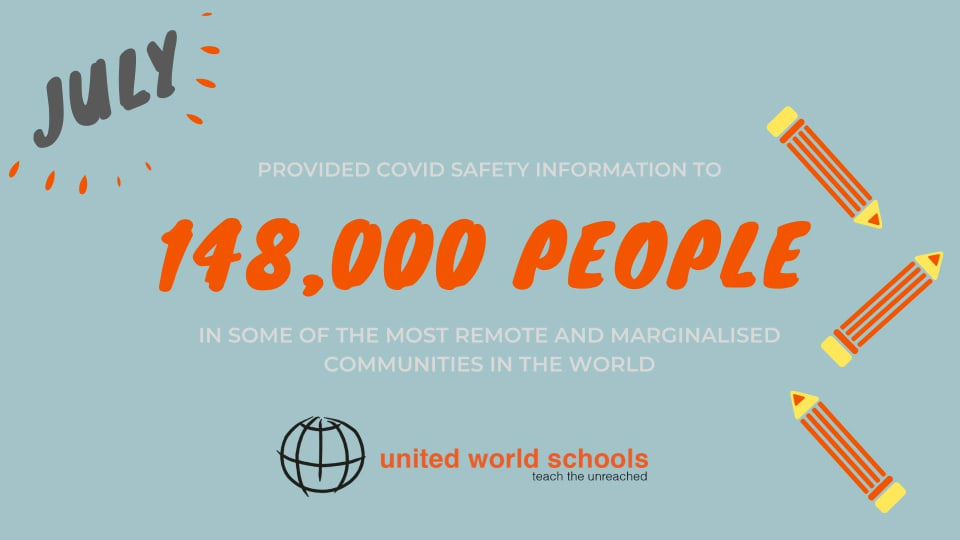 With the generous support for our Covid-19 emergency appeal, we were not only providing innovative distance learning programmes, we also opened better water and handwashing facilities in 175 remote communities, making sure that social distancing could be in place when people washed their hands and collected water. We also reached an estimated 148,000 people with life-saving information and advice about coronavirus.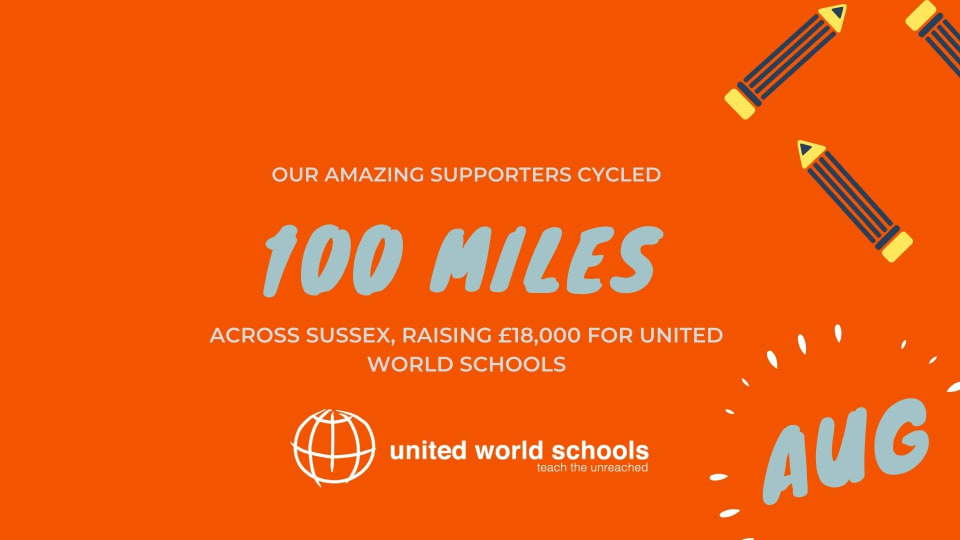 In August, we brought together UWS team members and leaders from across the education sector for our Every Child Counts webinar. We discussed the varying impacts of Covid-19 on education, and also celebrated the innovations that have been made this year to overcome barriers. This chance to innovate has helped deliver education to children even if schools have had to close.  Some of our dedicated supporters in Sussex took on a 100 mile bike ride and raised £18,000 to support our work to ensure that children could access education during the pandemic.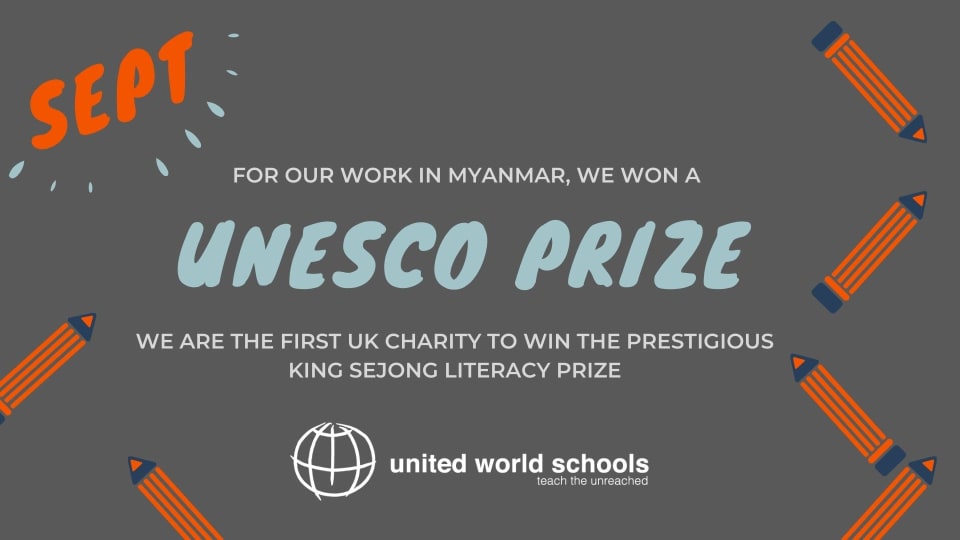 September saw us win the UNESCO King Sejong Literacy prize! Given the enormous challenges the team and the communities we work in have faced, were so pleased to receive this award for our work improving literacy rates in remote regions in Myanmar. 
James Bridge, Secretary-General of the UK National Commission for UNESCO said, "United World Schools winning the UNESCO King Sejong Literacy Prize is an exceptional achievement. It is a tribute to UWS and their partners in Myanmar and especially the teachers, indigenous community and the school children themselves. The work will lead to improved educational outcomes for the children across the board and opportunities for them and their community."
Our schools also re-opened in Cambodia, with our country team working around the clock to provide PPE in schools and observe safe social distancing.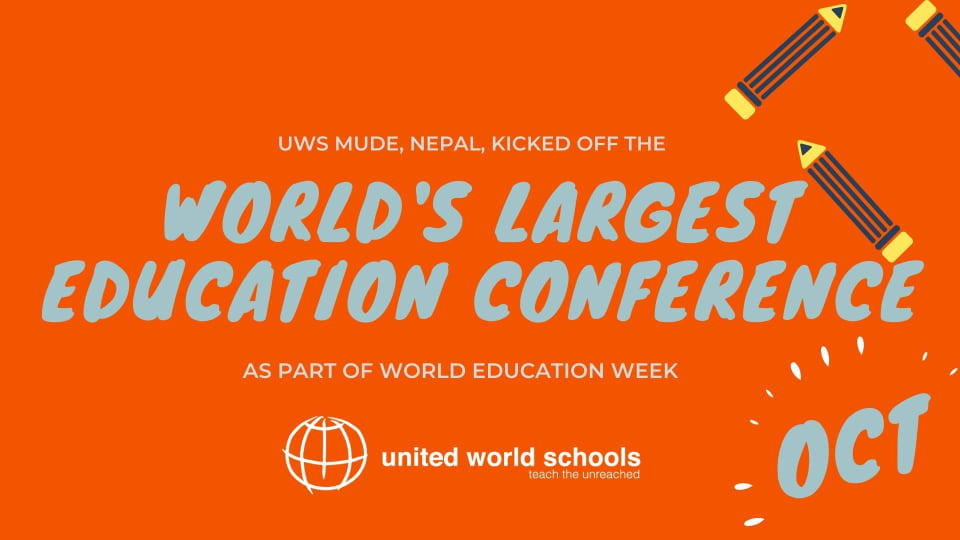 UWS Mude, one of our excellent Nepali Schools, kicked off the world's largest education conference. UWS Mude was recognised as a leader in early years education in Nepal, and shared how they are transforming early education in rural communities. In our UK team, our CEO Tim Howarth was recognised as one of the UK's most exciting social entrepreneurs by the Social Entrepreneur index. 
Another fantastic achievement to recognise Tim's commitment to delivering innovative, scalable education. If that wasn't enough, we were also awarded the 'PIEoneer of the Year' award by the Professionals In International Education news!  They said, "United World Schools are a great example of raising the bar on innovation within education, in their ambitious mission to teach the unreached."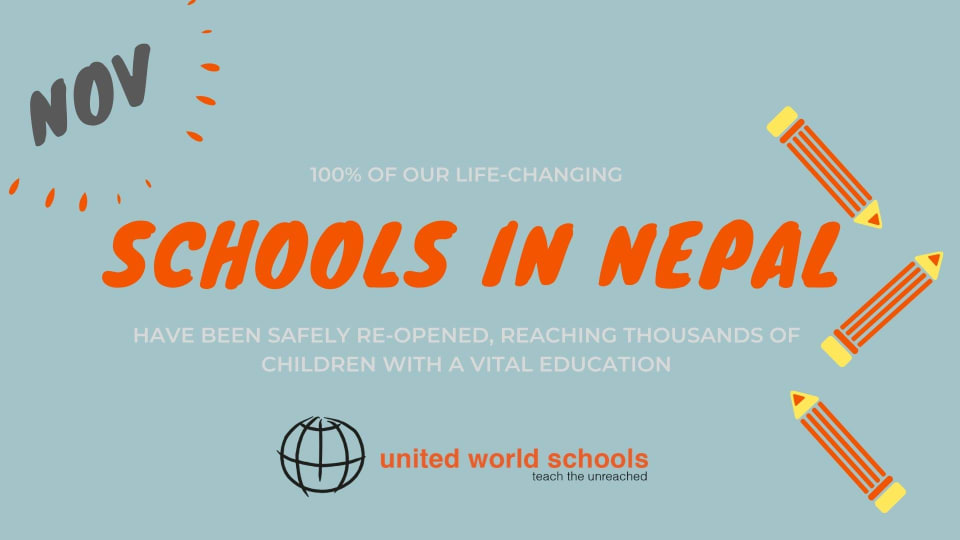 In November, we launched our 'Back to Childhood' appeal, focusing on bringing every child back to school, back to safety and back to their childhoods. As schools re-opened in Nepal, our teams were working hard to bring every child back to school, and away from a future of child labour or child marriage. From providing essential PPE to keep all our schools safe, to working hand-in-hand with local communities, our teams are doing everything to make sure that vulnerable children aren't left behind as schools re-open. 
To celebrate the winter season and spread a little cheer, members of team UWS all over the world put on their santa hats, Christmas jumpers, and their all-important trainers to take part in the Santa Run and raise money for our 'Back to Childhood' appeal! One of our amazing teaching Fellows, Nabina, was also featured in TES for her work creating radio lessons for 23,000 children in Nepal.
In December, we also hosted an Inspiration Event with some of our biggest supporters, celebrating our progress this year and looking to the next with optimism and determination to make even more of a difference in 2021. We'd like to say a huge thank you to every person reading this, and wish you happy holidays and a wonderful new year!
---
After all the challenges of 2020, we're going into the new year with stronger programmes and a renewed determination to teach the unreached. Though we're proud of the achievements we've made in 2020, the pandemic has exacerbated the education crisis. 
24 million children may never go back to school after lockdown. Although schools have re-opened in Nepal, they've had to shut once again in Cambodia due COVID-19. In Myanmar, it's unclear when schools will open after 9 months of closures.