COULD LEARNING THROUGH PLAY BE THE KEY TO GETTING CHILDREN BACK TO SCHOOL?

August 31, 2021
United World Schools
6 mins
In the wake of the coronavirus pandemic, the subsequent lockdowns and the herculean task of getting all children back into education safely as schools re-open in many countries around the world, the importance of play falls low on the list of priorities for many educators. We spoke to our Associate Director of Programmes, Gemma Barker, about why play has never been more important.
HOW HAS THE PANDEMIC IMPACTED THE CHILDREN UWS SUPPORTS?
It's important to acknowledge that all children have been affected by the pandemic. When we look at the affects on children in the UK, we see that the pandemic has had a profound impact on their wellbeing. A 2020 YouGov poll conducted on behalf of Barnado's found that a third of the UK's children are experiencing mental health difficulties due to lockdown.
But as with many crises, the most vulnerable around the world have been hit even harder by the effects of the pandemic. In many of the communities we work in, our schools are their first introduction to education. We've worked so hard alongside community leaders to make education a priority, and COVID-19 threatens to undermine that progress.
WHAT WOULD HAPPEN IF THAT EDUCATIONAL PROGRESS WAS REVERSED?
The UN has estimated that an additional 24 million children might not go back to school after the pandemic – that's on top of the hundreds of millions of children who already don't attend school. When children aren't in education, they're far more at risk of being taken advantage of, they have fewer life opportunities and even worse health outcomes. You can read more about that here.
The alternatives to education – like child labour and child marriage – are diametrically opposed to what a childhood should be. What's lost when children don't go back to school is not just education but also a childhood. It's a long-term loss as well; loss in brain development, in self-esteem, in opportunities for the future. Since schools are closed in every country we work in at the moment, the risk to children is growing every day.
HOW CAN CREATIVITY AND PLAYING HELP CHILDREN GET BACK TO SCHOOL?
To get children back to school, we need to tackle inattendance on three fronts. Firstly, we need to re-build communities' commitment to education, which we're doing through in-country 'back to school' awareness campaigns. Secondly, we need to support parents and encourage them to send their children back to school, and our teachers and Education Officers like Mr Hy Sombo are hard at work doing just that.
Lastly – but certainly not least – we need to empower the children themselves to become their own biggest advocates. We do that by helping them see the benefits of education, but also by making learning fun! In many of the countries where we work, rote learning is the norm – but we incorporate child-centred learning into our classrooms and distance learning. Something as simple as the children making their own masks can be seen as 'play'.
ONCE CHILDREN ARE BACK IN SCHOOL, WHAT ARE SOME OF THE STRUGGLES THEY FACE?
The restrictions are heart-breaking. Children need to play with each other, to touch each other, to make bonds. Play is needed more than ever, but it's harder than ever to incorporate it into the classroom.
I don't know who it's harder for; the children who've never been to school before and are introduced to education in a very strange way, or the children who have been away from school for months due to lockdown and are coming back to a very different school environment which is much less playful and interactive than it was before.
It's also important to remember that children experience time in a very different way to adults. For primary school aged children, they may not be capable of understanding that these restrictions won't last forever. I'm worried about retention, and I'm worried about the kids' wellbeing.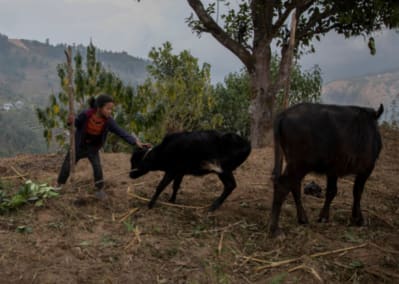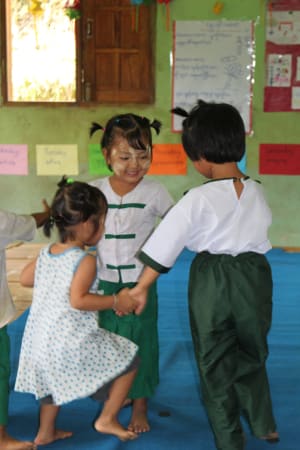 HOW CAN WE HELP IMPROVE CHILDREN'S MENTAL HEALTH?
We need to listen to children, and to promote their self-expression through art and play. The story of our Education Officer Mr Hout Veasna highlights the importance and power of creativity in the classroom.
The LEGO Foundation, one of UWS' biggest supporters and champions of learning through play, have also developed many resources for educators and primary caregivers to draw upon, such as their free online course, Coping with Changes: Social-Emotional Learning Through Play.
WHAT'S YOUR VISION FOR THE FUTURE?
I can't lie, I'd like to see children get back to tumbling over each other in a playground!
I think one of the positive things to come out of this crisis is that the sector and the world are appreciating schools more now; parents are desperate to get their kids back to school and governments are doing everything they can to re-open schools as quickly as possible. There's a renewed understanding of the importance of education, and the fact that schools are central to a thriving society.