LOCAL SCHOOLCHILDREN TAKE PART IN HAPPILY EVER SMARTER TO GET THOUSANDS MORE CHILDREN INTO SCHOOL IN THE MOST REMOTE PARTS OF THE WORLD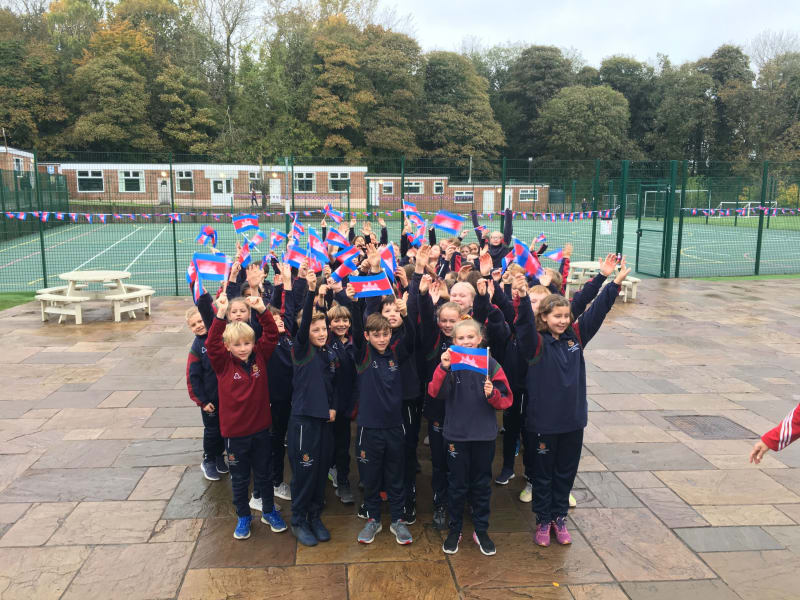 June 1, 2021
United World Schools
7 mins
Pupils at Scarisbrick Hall School in Scarisbrick, Lancashire are taking part in Happily Ever Smarter – a new campaign from United World Schools (UWS) to make going to school a reality for thousands of children living in some of the world's poorest and most marginalised communities, for the very first time in their lives.
Over the last few weeks Scarisbrick Hall School pupils have been 'running the 4,200 miles to Chrung' – a village in Cambodia – where they partner a school and have already raised £13,963!
One in six children worldwide do not have the chance to attend school and in the remote areas where UWS works less than a third of children complete primary education. Schools are often so far away that it's dangerous for young children to walk there and there isn't always an understanding of the importance of education. Children are often needed to work in the fields and at home, keeping them trapped in a cycle of poverty.
Covid-19 has exacerbated this education crisis. Pupils at Scarisbrick Hall School know only too well how hard it has been to learn during the pandemic, but for children in extremely remote areas with no technology it's been almost impossible.
"I missed school and seeing my friends over lock-down and we were lucky to have our lessons take place on Teams so when I heard about these children who have no technology and have to walk for over an hour to get to school when it is open, it makes me feel very lucky."
Eddie, 11, pupil at Scarisbrick Hall
"As a school we have all enjoyed running and knowing that the money we've raised can go a long way to help the school children in Asia. For Happily Ever Smarter we've challenged our pupils to run to Cambodia – it's 4200 miles, so on average each pupil has to run 9 miles. We want them to use this opportunity to get their body moving, do things out in the fresh air and understand the value of what giving a small amount of money can actually do to transform another child's life."
"We're delighted with how our pupils have engaged with Happily Ever Smarter and the work that UWS do in some of the most remote places in the world. They get a real insight into the barriers to education and how thousands of children in remote areas have many challenges just to complete a basic primary education. And we're delighted that we've now raised £13,963!"
All donations to Happily Ever Smarter until 29 July are being doubled by the UK government which means that the money raised by Scarisbrick School amounts to £27,926 – enough to support education for 349 children for an entire year!
Happily Ever Smarter has produced a cutting edge animated film to tell the story of Kanchi*, 10, who lives high in the Himalayan mountains in Nepal, working all day in the fields with her grandmother and dreams of going to school. As the film turns from beautiful animation to stunning live action footage we see Kanchi's dreams turn into reality, as a school is built in her remote village. Kanchi sets off for her first day of school and a chance to transform her future. Actor Amanda Redman (New Tricks, At Home with the Braithwaites and Good Karma Hospital) is adding her support to the appeal and has recorded the voice-over.
Award-winning charity United World Schools (UWS) aims to raise £2 million with Happily Ever Smarter to build, resource and equip 70 new schools, train 375 local people as community teachers and reach 10,000 more children, like Kanchi, with education.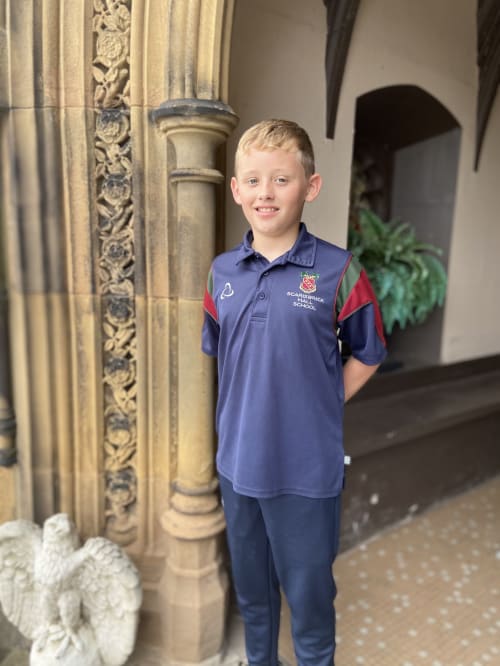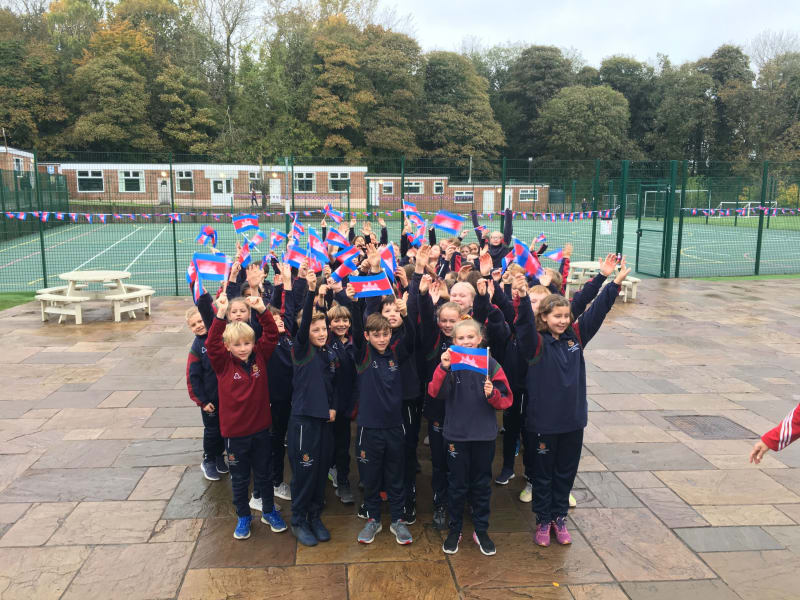 Kanchi's Story
Tim Howarth, CEO of United World Schools, said: "In the remote areas where we work there are thousands of children who have no school to attend. For children who miss out on education the future can look extremely bleak. Girls are particularly vulnerable to exploitation through child labour and early marriage.
"We've already reached 43,000 children with our life-changing education model, by developing schools, investing in local communities and innovating our programmes. We're so proud of the work that Scarisbrick School is doing to help us reach many more children and give them the education they deserve."
Donate to help children live #HappilyEverSmarter before 29th July 2021 and the UK government will double your donations. £80 could provide education for a year for one child …and doubled, we could educate two children! To find out more and donate visit www.unitedworldschools.org
Notes to Editors:
Scarisbrick Hall School media contact:
Suzie Walmsley
[email protected] | 01704 842240
UWS media contact – for more information, spokespeople, content and imagery:
Karen Garvin
[email protected] | 07971 576917
Kanchi selection of images and first-person story *Kanchi's name has been changed to protect her identity. (More stories and images available). Photo credit: Navesh Chitraker.
UK Aid Match and Happily Ever Smarter logos
UK Aid Match campaign – From 29 April to 29 July 2021 for every £1 you give to United World Schools the UK government will match your donation by giving another £1. All donations will help children from very remote communities access education across Asia. UK government funding will go to UWS' programmes in Nepal to help over 8,000 out of school children in some of the most remote areas go to primary school for the very first time. Donations from the British public will be spent across all UWS' education programmes in Nepal, Cambodia and Myanmar.
United World Schools (UWS) builds schools in some of the most remote, impoverished villages in the world and champions inclusive, innovative and sustainable education, including remote learning during the Covid-19 pandemic. Since 2008, UWS has built 250 schools and trained 1,000 local and government teachers and reached 43,000 children in Nepal, Myanmar and Cambodia with a life-changing education. UWS is a 2019 WISE Award Winner for educational innovation, and a 2020 UNESCO King Sejong Literacy Prize winner for ethnic minority literacy programmes.
Global Education Facts and Figures
Out of school figures:
258 million children were already out of school before the coronavirus pandemic struck (UNESCO 2019). This includes: 59 million children of primary school age, 62 million of lower secondary school age and 138 million of upper secondary age.
18.7 million children are out of school in Asia (UNESCO 2019).
Covid-19 impact:
School closures amid the pandemic have compounded the already dire progress on Sustainable Development Goal 4 (SDG4) – the global commitment to guaranteeing a quality education for every child by 2030.
24 million children may never go back to school (UN, Oct 2020) after the pandemic, falling victim to early marriage or a lifetime of poverty. Vital progress made in access to education worldwide will be pushed back by a decade.
UNESCO has warned that it may be six years until 2018 levels of education financing are reached again, resulting in lost learning for millions of children (UNESCO 2020).
Education benefits:
For each additional year of schooling, an individual's income increases by up to 10%. If all students in low income countries acquired basic reading skills, 171 million people could be lifted out of poverty. (EFA GMR 2014)
The pandemic has shone a spotlight on the importance of global healthcare and access to health information. Education is inextricably linked to health and the benefits are lifelong. A child whose mother can read is 50% more likely to live past the age of 5 and 50% more likely to be immunised.
For the world's most marginalised children, school not only builds opportunities for the future, but is also a place of safety and a centre for life-protecting and and growth of social and life skills. For example UWS works to instill hygiene practices at the schools it works in.