TOGETHER, WE'LL SHOW THE WORLD THAT GIRLS WILL BE GIRLS!

October 10, 2022
United World Schools
7 mins
Girls Will Be Girls was a United World Schools appeal backed by the UK government as part of the UK Aid Match initiative.
We want to thank all those who supported our Girls Will Be Girls appeal which ran from the 21st April to the 21st July 2022. Your generosity means that we raised an incredible £4.15million, including £1.87million of match funding from the UK Government.
The Difference our Programme Will Make
At United World Schools, we're proud to have championed inclusive education from our very beginnings. Our teams work exceptionally hard to ensure that every girl and boy living in some of the world's hardest-to-reach communities is able to access the quality education that is their right.
Our Girls Will Be Girls programme, which starts in Spring 2023, forms a crucial component of furthering our inclusive education agenda.
All donations that were made as part of this appeal will help girls across Cambodia, Myanmar, Nepal and Madagascar tear down barriers to education and attend school with their heads held high. The matched income from the UK government will go directly to funding our girls' education programme in Cambodia and Nepal, helping girls to get an education, stay in school and achieve their potential.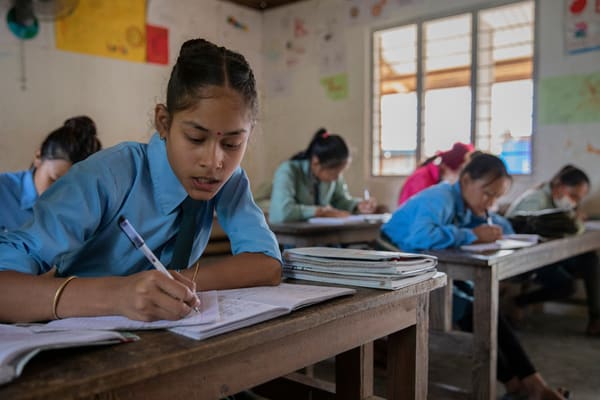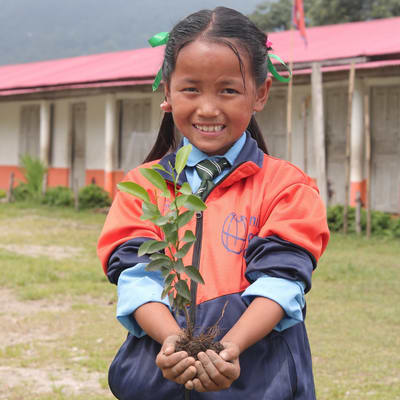 Meet Asha
Asha lives in a remote village in the Himalayas of Nepal, where she attends UWS Hedangnagadi School. But not long ago, Asha was one of the millions of children globally who drop out of school before completing primary education. She'd been forced to drop out of boarding school as her family couldn't afford the fees. When this happened, Asha and her parents were devastated, they were determined that Asha would continue her education and so looked for alternatives. UWS Hedangnagadi School provided the solution. At United World Schools, we believe that every child should have access to a free, quality education.
"After knowing that UWS provides quality education similar to that of the boarding school, we decided to enrol our children"
Asha's mother
Asha loves going to school, learning new things and playing with her friends. She is also involved in the STEAM (Science, Technology, Engineering, Arts and Maths) Club at her school – an initiative to create a learning space that gives children the opportunity to connect ideas with practice.
"I am very happy to join the STEAM Club because I am learning new things everyday," says Asha who dreams of becoming a doctor and providing health facilities to the people in her remote community.
"I think I would be very sad if I didn't get the chance to go to school and study. Seeing the other children, including my friends going to school would further make me sad".
Thanks to your generosity, our Girls Will Be Girls programme will work with over 14,000 girls like Asha, so they can be pioneering, revolutionary, happy… whatever they want to be.
Our Programme
Through our Girls Will Be Girls programme, we aim to work with 20,000+ people over a three-year period to increase girls' presence, participation and achievement in school.
Our innovative programme has four key areas:
1. Targeted support for out-of-school and at-risk girls:
Through our Girls Will Be Girls programme, we aim to work with 20,000+ people over a three-year period to increase girls' presence, participation and achievement in school.
2. Gender-responsive households and communities:
We'll support girls and families to challenge harmful gender norms, for example, where women are expected to by wives, housekeepers and reproducers. We will tackle this through community workshops in over 100 communities. By establishing girls' clubs, we'll create safe spaces for girls in school to talk about the issues they face and discuss solutions. We'll carry out education and training sessions for girls to increase awareness of their bodies and rights.
3. Gender-responsive schools:
Harmful social and cultural norms are often reflected in schools. Through this programme we'll train Education Officers to deliver training to teachers to build gender inclusive schools that challenge inequalities in the classroom. We'll audit our WASH (Water, Sanitation and Hygiene) facilities and make upgrades to ensure the school environment is safe for girls and considers their specific needs.
4. Gender-responsive education systems:
To influence systemic level change, UWS will engage with government officials and education sector stakeholders on improving gender responsive approaches, gender inclusive teaching practices and school environments. We'll raise awareness of harmful gender norms and increase support for girls' education. We'll facilitate meetings between local authorities and community representatives to amplify beneficiary voices.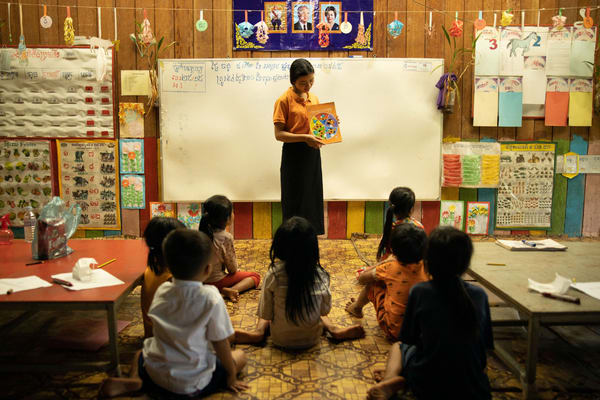 Thanks to your support
We will address the structural barriers that prevent girls from participating fully in education. Together, we will create systemic change for girls living in rural areas. We look forward to keeping you updated on the impact of our Girls Will Be Girls programme.