UWS CELEBRATES WORLD ENVIRONMENT DAY

June 12, 2018
SUSANNA WORTH
4 mins
Over 300 million tonnes of plastic are used by the world every single year. Less than 10% of this is recycled. According to research by the Chartered Institute of Waste Managers and the UK charity WasteAid, 70% of ocean plastic is mismanaged waste from developing countries, the majority of which is from Asia.
From our work in Cambodia, Myanmar and Nepal, we know the devastating impact that pollution can have upon the environment. We have seen first hand how pollution affects the lives people growing up in rural communities, particularly when these villages are dependent on farming, fishing, and hunting to survive. That's why, this World Environment Day, UWS students decided to take matters into their own hands…
READ UWS STUDENTS TOP TIPS TO #BEATPLASTICPOLLUTION
UWS NEPAL CELEBRATES WORLD ENVIRONMENT DAY
On Tuesday 5th of June three UWS Schools in Nepal took a stand against plastic pollution as part of World Environment Day. Witnessing the extent of pollution in their community, students wanted to take action, and took to the streets. In Majhua village, pupils led a protest march against pollution with homemade banners and cardboard signs.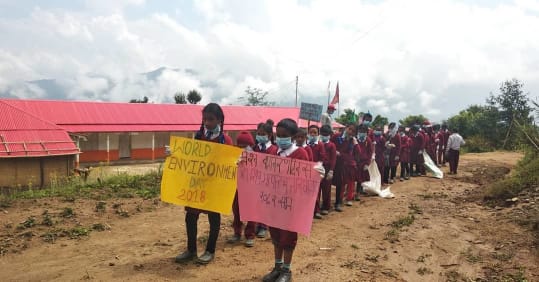 PLANTING THE FUTURE
Deforestation continues to affect life in Nepal, with 1.9% of the country's forest lost on average every year. For people living in rural communities, the impact of this on their life is huge. Healthy land that was supported by surrounding trees and once used for farming is replaced by scrubby bush vegetation. Women and children have to walk further to access good quality firewood that they can use for cooking. Flash flooding is more likely to happen due to the lack of trees.
To highlight these issues, UWS Mude School led a tree planting ceremony to celebrate World Environment Day. Saplings were planted in the school grounds by special guests from Nepal's Community Forest programme and Mude's community leaders.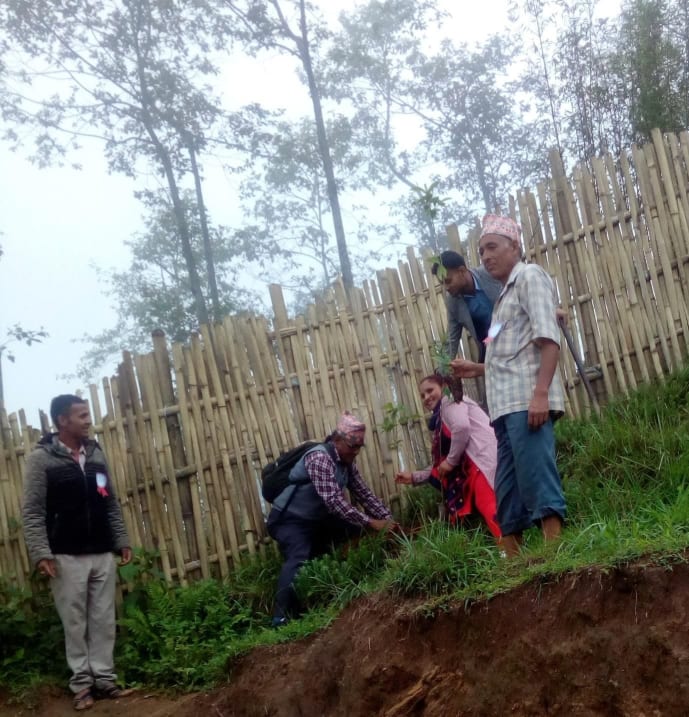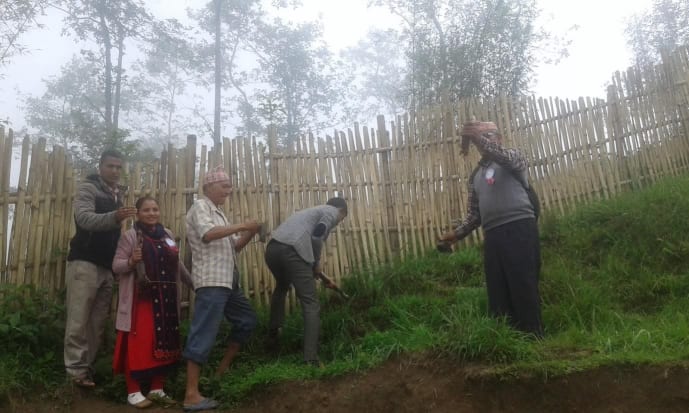 "Heavy rain almost cancelled the event but thanks to the patience of students, teachers, parents and our guests the day was a success!"
Surya Karki
DANCING AWAY THE RAIN:
UWS Mude School's celebrations for World Environment Day also featured a dance competition, singing, and talks by pupils. Here is a report on the day by our Country Director, Surya Karki:
"Loud claps from the audience encouraged children taking part in the dance competition to keep going and brought a smile to everyone's face. Our chief guest (Gopal Katuwal, President of Community Forest) spoke on the need to give serious attention towards protection of environment. He appealed to everyone to work towards a cleaner, greener and sustainable world by creating awareness of environmental issues like plastic pollution and deforestation. The event ended with lunch and prizes given to students from Gopal and our president of the School Support Committee. It was a fantastic day full of inspiring words on how we can take care of the environment, however it was the students who were the real inspiration!"