UWS & EAC: PARTNERING TO PREVENT SCHOOL DROPOUT

May 23, 2022
United World Schools
5 mins
Every child has the right to go to school, and the right to receive a quality, inclusive education once they get there. However, one-third of the world's 59 million out-of-school primary-aged children have previously attended school and dropped out (UIS, 2019).
Poverty, gender, discrimination and location, especially rurality, are the most common factors linked to school dropout. In this blog, find out how, in partnership with Educate A Child (EAC), a programme of the Education Above All Foundation, we are launching a Dropout Prevention Programme, to support UWS students to continue claiming the education that is their right.
United World Schools works with some of the world's most remote and marginalised communities to provide every child with a quality, inclusive education. We work with rural communities, who are often ethnic minorities, relying on subsistence farming with little to no educational infrastructure. Within the communities we serve, there are subgroups of children who are more vulnerable to educational exclusion and early dropout due to key demographic risk factors. These include living in extreme poverty, the challenges facing girls aged 11+, discrimination, students being overage for their grade, and having a difficult journey to school.
The risk of school dropout has only been exacerbated by Covid-19. Prolonged school closures have heightened the risk of child labour and child marriage, widened equity gaps, and eroded cultures of learning. Girls have been disproportionately affected, UNESCO warns that more than 11 million girls are at risk of dropping out and may never return to school. This not only threatens decades of progress made towards gender equality, but also places girls at greater risk of adolescent pregnancy and child marriage.
We are committed to ensure all children are safe, included and learning. In partnership with EAC, our three-year Dropout Prevention Programme will identify the United World Schools students who are most likely to drop out and provide targeted support to enable these children to stay in school.
In support of this, we have formed locally-established School Retention Teams (SRTs) in each UWS school in Nepal and Cambodia. SRTs are composed of teachers, community volunteers and UWS Education Officers, and over the course of the last months, they have undergone Dropout Prevention training sessions.
Amrit is a UWS Education Officer in Sankhuwasabha, Nepal. Through spending time living with the communities he works with, he has become acutely aware of the many barriers that children face to gain a quality education.
"I work with students from families who cannot afford simple stationery like pencils, erasers and sharpeners", says Amrit. "Some students have to walk for more than two hours to reach a school, across flowing rivers and slopes at-risk of catastrophic landslides. Coming from families without a history of education, students often lack the guidance to complete their academic work at home".
SRTs will use five key risk factors to identify the UWS students who are most likely to drop out, and then deliver a holistic package of interventions to enable them to stay in school. These interventions include, among others, providing school supplies, assistance with children's journey to school, establishing mothers' groups and girls' clubs, delivering holiday and evening classes (as pictured below), and providing sanitary kits and menstrual education for adolescent girls.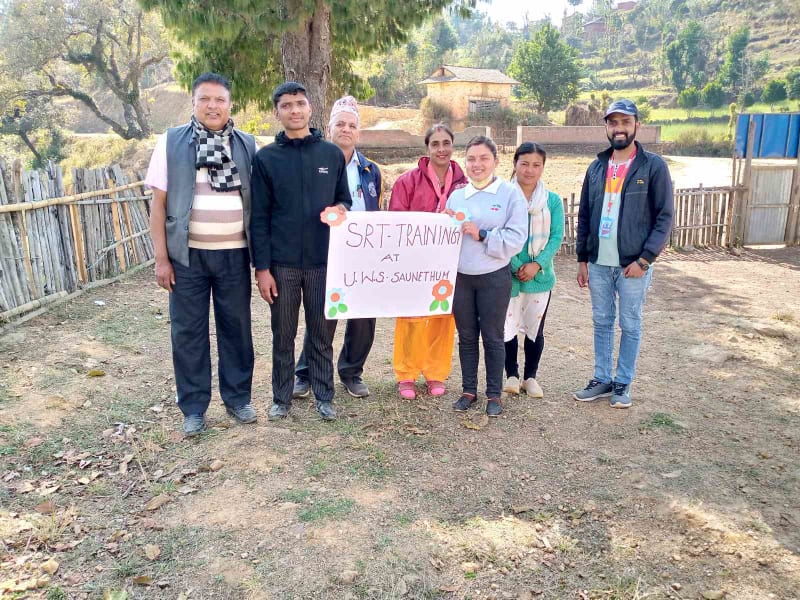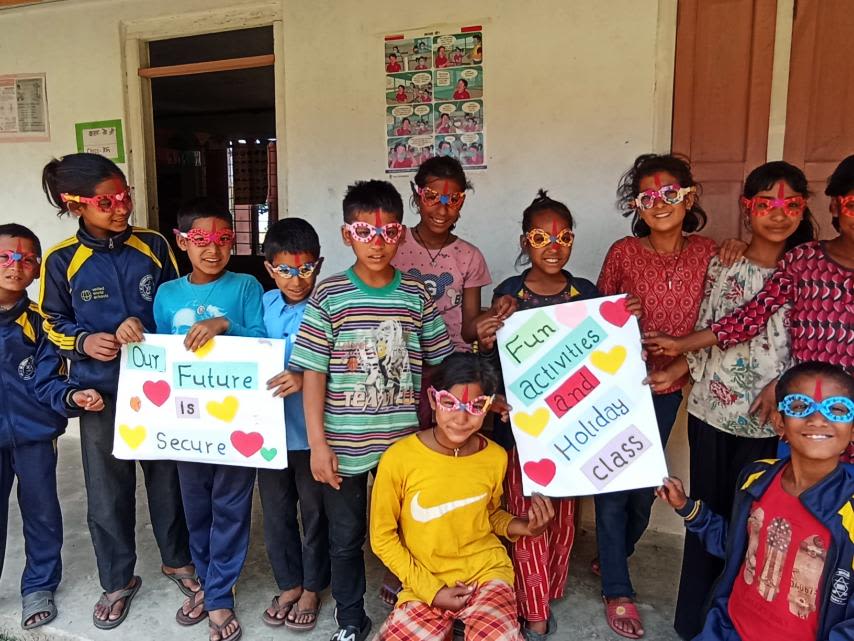 "I am happy that United World Schools is partnering with EAC to bring the Dropout Prevention Programme to UWS schools"
– Amrit
"I strongly believe that this project will not only be crucial to retaining students who are at risk of dropout, but also to bring back and inspire students who have previously dropped out".
United World Schools will continue to support the most marginalised children to claim their right to an inclusive education and provide them with the tools to shape their own futures, on their own terms. The goal of this programme is to increase the retention of over 5,000 high risk and most at risk children in primary education across Nepal and Cambodia.
We are proud to be launching our Dropout Prevention Programme in partnership with Educate A Child. Over the course of this project, we will be sharing more information about the progress of interventions and the experiences of our teachers and students across the communities we support.